Bankroll's New Sports Bar With Ticketed Seating and Betting Amenities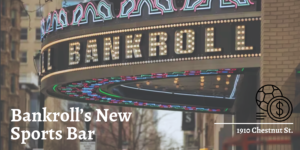 Bankroll, the highly anticipated Philadelphia sports bar, opened its doors on Friday, March 3, in the Rittenhouse area of the city. Unlike your average sports bar, Bankroll boasts a wide selection of drinks and food and multiple TV screens. However, what sets this new establishment apart is its one-of-a-kind offerings, including the ability to use Pennsylvania sportsbooks from your mobile device.
Bankroll Offers a Modern Way to Enjoy and Socialize around the Sport
In a recent interview, Founder Paul Martino and CEO Padma Rao discussed what makes Bankroll so distinct. Martino proposed to the city major that Philadelphia should brand itself as the most sport-forward city in the United States. When asked what he would build, he had something like Bankroll in his mind.
Bankroll offers a diverse range of experiences to its visitors. This new sports bar features two public areas – The Big Game Room and The Boyd – which provide upscale restaurant-style fine dining. In addition to these areas, Bankroll also offers private and VIP sections, including The Club, The Lounge, and The Suites, which can accommodate parties ranging from eight to 50 people.
The duo worked in San Francisco, where the Giants stadium is near the business district. Unfortunately, the Stadium District in Philadelphia is not so close.
Martino wanted to see law clerks to be excited about ticketed seats more than going to the stadium. Going to the actual game is troubling because of the parking, and simultaneously you can hang up in the club.
His associate Rao looks for a modern and invested sports fan that likes his team and wants to gamble. When they designed the Bankroll, it was to reimagine the physical world. So such things as apps, screens, private and non-private areas, and how to consume things were reinvented.
Ticketed Sporting Events will be Held at Bankroll Philadelphia
Martino's vision for Bankroll is to eliminate long lines that often form outside bars in the city on game days. During championship games/series for the Phillies, Union, and Eagles, long queues of patrons can be seen waiting outside various establishments.
To combat this, Bankroll offers a ticketed entry system for most Philadelphia sports game days, similar to the concept of having a ticket for a game. This system allows visitors to purchase tickets to watch a game at Bankroll using various methods, such as Resy and Sevenrooms unless they choose to sit at the bar.
Martino thinks fans shouldn't worry about seating on a Super Bowl Sunday. Instead, he feels that ticketed seating for sports viewing can change how fans enjoy sports bars.
The first test for the Bankroll is approaching March Madness, and clients are already sending the request for the first day of the tournament.
Although the Bankroll still didn't round up the entire ticketing model, the patrons are paying for it, and for now, they will pay a minimum on the table. Rao feels that this shows the right direction.
For Martino, the benefit of knowing you have the right place and guaranteed seat instead of coming hours before the event is worth the premium pay.
Bankroll Sports Betting Opportunities
Sports betting in the Keystone State was legalized for eight months when Marino had the idea for Bankroll. But, as FanDuel's first US investor, Martino had to have a long-term vision.
Martino believes it had to have a luxury experience to gram the highest lifetime value players. In addition, unique experiences like tables and having a place like Bankroll is crucial for a place like PA where iGaming and sports betting are legal.
Bankroll offers more than just several TVs to its visitors. In addition to these TVs, there are screens displaying odds and sportsbook promotions for the specific games being played that day.
When booking a reservation at Bankroll, visitors are asked about their sports betting experience, and this information is then stored in the establishment's Customer Relationship Management (CRM) database.
The bar will have staff members around to educate and guide guests on sports betting.
Other Bankroll Features
There will be much more amenities than in a typical sports bar. The Bankroll will have lounges, clubs, and places to eat. It will also feature ticketed events that are exclusive to the bar.
According to Martino, Seth Joyner will broadcast his weekly show at Bankroll. As part of their agreement with Joyner, the former Eagles linebacker will also host a seminar on one of Bankroll's big screens a few times each season to explain how the Eagles' defense works.
The bar will have a movie night on Valentine's Day and show other sports like European soccer, cricket, and Formula 1 racing.