Casinos Started the Year on a Solid Note in Pennsylvania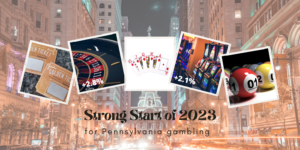 The upward trend from the end of 2022 continued in early 2023 for Pennsylvania gambling sites, and the state's casinos had a particularly impressive start to the year. The Pennsylvania Gaming Control Board showcased the official January numbers.
The Keystone State is among rare US states that have legalized online casinos. Aside from PA, you can play legally with real money in online casinos in New Jersey, Delaware, West Virginia, Connecticut, and Michigan.
Gross Revenue of Table Games Has a 2.8% Rise
PGCB numbers showed excellent results for table games. Their gross revenue was above $83.91 million, a 2.8% rise compared to December figures ($81.66 million). Simultaneously, online slot numbers were in decline.
Interactive banking tables had the most considerable increase of 4.1%, with more than $2.586 billion in the handle. Nevertheless, the sector contributed $40.02 million in revenue, a slight 0.8% decrease from the record-setting December.
Great Start of the Year for Retail Slots
Players invested fewer spins in January, with interactive slots notching $2.618 billion in the handle. It is a 2.6% decline from December figures ($2.689 billion). The gross slot revenue was over $90.2 million, 1.5% less than in December.
Retail slots had a significantly better month. Bettors flocked to Pennsylvania brick-and-mortar casinos giving operators more than $2.6222 billion in retail slots handle, an increase of 1% from December. In addition, the slots revenue went above $202.24 million, up 2.1% compared to December ($198.03).
The numbers will probably continue to rise as the 17th retail casino venue opened in Shippensburg. Parx Casino is 145 miles west of Philadelphia and operates on a mini-casino license. Parx has 500 slot machines and 48 electronic table games.
The Betting Market Performed Well
With the Philadelphia Eagles Superbowl appearance, it's no wonder that PA sports betting posted at more than $772.28 million, a 2.3% increase compared to December. Sports betting apps also had a 2.1% increase in handle with $719.7 million. However, online and retail betting numbers are lower than in January 2023.
Mobile betting made 93.2% of the market, and taxable revenue for January was above $39.25 million, significantly lower than in December but 22% better than the previous January.
Pennsylvania netted $13.35 million in taxes from sports wagering.