How New Baseball Rules Can Change MLB Betting in Pennsylvania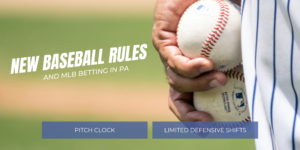 The previous MLB season started later than usual due to the lockout. Players and owners negotiated and, among other things, agreed on new rules which could substantially change how bettors wager on games in the Keystone State.
The MLB betting industry could change dramatically because of changes like the pitch clock, shift ban, and larger bases.
What Has Changed for MLB in 2023
Baseball, which has historically not had a clock, has now implemented changes such as a pitch clock, as agreed upon in the latest Collective Bargaining Agreement negotiated by players and owners.
The pitch clock includes a 30-second timer between batters, a 15-second timer between pitches with bases empty, and a 20-second timer between pitches with runners on.
Batters are now required to be in the box and alert the pitcher by the 8-second mark, and failure to deliver the ball or prepare for the pitch within the allotted time results in penalties such as an automatic strike for the pitcher.
Additionally, pitchers are allowed two disengagements per at-bat, and defensive shifts have been limited to a minimum of four players on the infield with specific rules about their positioning. Finally, the bases have been increased in size from 15 square inches to 18.
How New Rules Could Affect MLB Betting at Pennsylvania Sportsbooks
MLB's latest changes, particularly the introduction of the pitch clock, may have an impact on betting. The pitch clock has already influenced games during the spring season.
Examples include Yankees reliever Wandy Peralta striking out a batter in 20 seconds while adhering to the new rules. Additionally, Mets pitcher Max Scherzer used the pitch clock to quick-pitch a batter and secure a strikeout. While hitters adjust to the new rules, betting on the over for strikeouts, either for a single game or for the season, may become a good strategy.
However, live betting may be affected the most due to the delay between TV broadcasts and sportsbook updates. With the introduction of the pitch clock, sportsbooks and bettors will have to work faster, which could have implications for markets such as flash betting for MLB games.
Notable Phillies pitchers like Aaron Nola and Zack Wheeler also have season-long strikeout props.
Live betting will be most affected by new pitch clock rules. The delay between watching the game on TV and updates on sportsbooks could be challenging for bettors to find a suitable moment for placing a wager.
Some Pennsylvania sportsbooks introduced new features during the previous season, including several flash betting markets. One of the most popular markets for MLB betting was the over-under of a specific pitch's velocity to a batter. However, with the implementation of the pitch clock, there is less time between pitches, requiring sportsbooks and bettors to act faster.
Impact on the Philadelphia Phillies Roster
The shift is no longer a concern for Phillies outfielder Kyle Schwarber, which could be crucial for bettors looking to wager on his season-long player props. A study conducted by MLB.com suggests that Schwarber could have had 12 additional hits last year if the shift had been prohibited, resulting in a .239 batting average instead of.218.
While betting on a player's batting average is impossible, DraftKings PA Sportsbook offers prop markets for specific players' total hits and RBIs. Schwarber's move down the lineup with the addition of Trea Turner could provide him with more RBI opportunities, and his RBI total for the season is set at Over 92.5 (-115) / Under 92.5 (-110), with him finishing with 94 last season.
With the new rules of larger bases and limited disengagements from pitchers, Turner may once again find himself at the top of the list for most stolen bases. Last season, he stole 27 bases, leading the NL with 32 in 2021. DraftKings has him listed as the seventh-best player to lead the majors in stolen bases at +1400. Additionally, Turner has scored 100 or more runs in each of the last two seasons, and he has the seventh-best odds to lead the majors in runs at +1400, with a career average of .302 and an on-base percentage of .355.