More Than $10 Million in Casino Tax Money Missing, According to PA State Representative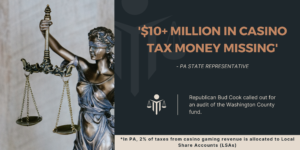 A State Representative from Pennsylvania is searching for answers regarding casino-driven tax fund allocation for his county. Republican Bud Cook called out for an audit of the Washington County fund, paid by Pennsylvania casino tax revenue.
The representative claims $10 million of the fund is unaccounted for. That revenue comes from the Hollywood Casino at The Meadows.
The Ongoing Six-year Legal Dispute Led by Rep. Cook over Pennsylvania Casino Funds Has Escalated
Representative Cook has been fighting to audit PA online casino and Pennsylvania casino funds for six years, but his attempts to do so with the state Auditor General have been unsuccessful. As a result, Cook plans to take his fight to the new state Attorney General, Michelle Henry, demanding a forensic audit of the funds.
Under Pennsylvania state law, 2% of taxes from casino gaming revenue is allocated to Local Share Accounts (LSAs), which redistribute the money to community projects. However, Cook has been pursuing an audit of the Washington County LSA, which is funded by Hollywood Casino at The Meadows, due to complaints from residents about unfair selection processes for the allocation of program funds.
Cook believes the lack of transparency and accountability in the LSA program prevents many qualified organizations from accessing the funds. Therefore, he has created a website with basic information, supporting documentation, and filing history of Right-to-Know requests related to the LSAs.
Despite his efforts, Cook's request for an audit from the state Auditor General and Timothy DeFoor has been denied. Nevertheless, Cook is committed to continuing his fight for openness and transparency in all aspects of state and local government, stating that the people of Washington County deserve nothing less.
Varying Opinions among Pennsylvania Legislators Regarding Cook's Allegations
Last Wednesday, Rep. Tim O'Neal (R-Washington), who serves on the review committee responsible for recommending LSA fund allocation, expressed his support for Cook's audit demands. As a member of House Republican leadership, O'Neal believes that Cook's persistent efforts to pursue the audit present a compelling case, despite having seen no evidence of misconduct. He also believes that the audit would be in the best interest of his constituents.
However, State Sen. Camera Bartolotta, who also serves on the review committee and represents Washington County, was less enthusiastic about Cook's allegations. Although she has heard rumors of favoritism in the selection process, Bartolotta has not experienced it firsthand and believes that Cook's audit demands are his sole focus.
Washington County Commissioners Claim the LSA Process to be Transparent
Six years ago, Cook's battle began when concerns arose around favoritism due to the majority of Local Share Account (LSA) requests being denied. The review committee makes recommendations, which are then submitted to the county commissioners for approval.
The Department of Community and Economic Development (DCED) has the final say on the recommendations. The DCED contracted the Redevelopment Authority of Washington County to administer the program, which includes funding for all approved recommendations.
The Authority executive director, Robert Griffin, stated that an independent accounting firm conducts annual audits and has never identified any discrepancies. Griffin further noted that Cook's allegations were inconsistent with the audit's findings, which are available to the public.
Despite this, Cook has faced difficulties in obtaining an audit. His most recent attempt to have a state audit was declined by John Hershey, DeFoor's legislative director, who cited the prioritization of audits that would benefit all Pennsylvania taxpayers. Attorney General Henry will probably hold a similar stance.
LSA Program Funds Recipient
Starting in 2008, the Washington County Local Share Account (LSA) program has acted as a model for other counties with gambling-based LSAs. The program allocates funds to community improvement, economic development, job training, and other matters of public interest.
Last year, LSA funded significant investments like Washington County Historical Society Research & Education Center, Centerville Clinics Lab Equipment, Mon Valley Business Resource Center, Fallowfield Bridge Repair, and others.
If we categorize investments, $2.4 million went to community improvements across 20 projects. Sanitary Sewer Improvements got $2.2 million in ten projects, General Public Interest garnered $1.2 million, and Water Improvements got $892.000 across four projects. In addition, a piece of the pie went to Economic Improvement projects with $350,000 allocated, and the Job Training project got $100,000.