New Scratch-Off Games and Special St. Patrick's Second Chance Drawing Released by PA Lottery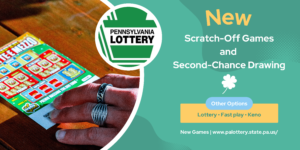 After a successful Valentine's Day campaign, the state lottery in Pennsylvania created new games. Users can participate in St. Patrick's Day scratch-off and Fast Play games. New PA Lottery editions are also eligible for a Second Chance Drawing, where eight tickets will be awarded the top prize of $17,000.
Retail Stores Hold PA Lottery St. Patrick's Day Scratch-offs
Lucky 7 has the most valuable top prize among the new scratch-off tickets. While it is not eligible for the Second Chance Drawing, you can win 10 prizes of $500,000, and one Lucky 7 ticket costs $10.
The game relies on matching symbols and offers 15 chances to match any six winning numbers. For example, a Lucky 7 symbol instantly awards the prize, while the 7x symbol will grant players seven times the prize. Likewise, if the player lands a gold coin icon, the prize is $70, while the Lucky 7 symbol wins all the prizes shown.
Under the Rainbow is another scratch game, where a $5 ticket has ten big prizes of $100,000. The game also has two bonus features above the main play area.
The scratch game includes the Pot of Gold bonus game. If you reveal a leprechaun symbol, you can win an additional prize. If a Cloud Bonus area shows a 5x symbol, you can multiply any prizes won. Similarly to Lucky 7, a rainbow symbol within the play area grants you all the prizes offered. Unlike Lucky 7, a non-winning ticket earns you five entries into the In The Clover Second Chance Drawing.
The Second Chance drawing includes two different games. Leprechaun's Gold is a $2 game with top prizes of $17,000 and Clover Patch Match, where you can win $1700 with only a $1 ticket.
Can the new Fast Play game become your golden ticket?
The Fast Play games are printed on demand at retail shops. Players can ask for them at the counter, use a self-service terminal, and participate in Second Chance Drawing.
One of the new Fast Play games is The Hunt 4 Green, where players can win two top prizes of $40,000 with a $5 ticket. A single ticket offers 12 chances to match any of the five winning numbers. For example, if you land a clover symbol in the main play area, you can get four times the prize shown. In addition, the fast Play game comes with a bonus game that can win players $17 instantly, which happens when four gold coins appear in the main play area.
PA Lottery has other Second Chance eligible Fast Play Games like Find the Leprechaun. The ticket costs $2, and the top prize is $17,000. Additionally, players can buy a ticket for Shamrock Search for $1; the top prize is $1700.
Extreme Winning Fast Play game does not participate in Second Chance. However, with a $20 ticket, you can win the top prize of $300,000. The game includes multipliers ranging from 1x to 5x for each column of numbers. There is an additional Extreme 10x Bonus game where players can win 10 times any prize won or additional win. If you purchase Fast Play tickets, you get a voucher for online bonus money to play instant games at the PA iLottery.
Entries open for Second Chance Drawing
Players with eligible scratch-off or Fast Play tickets can now enter their tickets on the lottery website or mobile app. Pennsylvania Lottery Clover, Second Chance Drawing, accepts tickets until Thursday, March 23.
Each game type has its own drawing pools. The top prize for scratch-off games is $17000, with four recipients. In addition, seven $3000 prizes are available, along with 13 $1700 prizes and 50 prizes for $100 online play bonus money.
The Fast Play also gets four $17000, and the rest of the prizes are the same. Players who enter Second Chance Drawing will be announced on April 6 on the PA Lottery Site.