No Retail Sportsbook on NFL Stadiums in Pennsylvania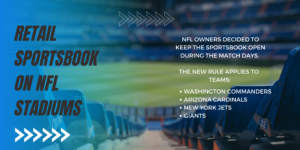 With NFL owners voting to allow sportsbooks to remain open during games, fans on the stadiums can place in-person wagers. The news applies to few teams for now, but more franchises are expected to capitalize.
Betting within the stadium could significantly change NFL betting markets. Is there a chance to see retail sportsbooks at Philadelphia Eagles or Pittsburgh Steelers games soon?
Teams Having Sportsbooks at the Stadium
NFL owners decided at their meeting to keep the sportsbook open during the match days. The new rule applies to four teams: Washington Commanders, Arizona Cardinals, New York Jets, and Giants.
Washington is the only team with sportsbooks inside the facility, while three other clubs have retail shops just outside the stadiums.
The Fanatics Sportsbook at FedExField was inaugurated on Jan. 20, one day before the NFL Divisional playoff round commenced. However, as the Commanders did not qualify for the playoffs, the Fanatics' debut during the game day has been postponed until August. After its establishment in Washington, Fanatics expressed interest in acquiring the betPARX sportsbook, indicating its desire to enter the PA betting market.
BetMGM Sportsbook is close to State Farm Stadium, a 17,000-square-foot building encompassing two floors, 38 TVs, and over 25 betting kiosks. Since the sportsbook is positioned outside the stadium, it remained open on game days in the past. The FanDuel Sportsbook, situated in the same complex as MetLife Stadium, home to the Jets and Giants, is located 0.6 miles away from the stadium.
Will We See a Retail Sportsbook at Acrisure Stadium or Lincoln Financial Field?
The possibility of a sportsbook being established at either the Eagles' Lincoln Financial Field or the Steelers' Acrisure Stadium seems remote. However, Section 13C21 of the PA Gaming Act states that only casinos in PA or off-track betting facilities can host retail sportsbooks. This implies that sports betting can only be done in authorized locations or through online platforms. It is as stated in the act: "A sports wagering certificate holder may only be permitted to conduct sports wagering at a licensed facility, or an area authorized under subsection (c), or through an Internet-based system."
It would be a missed opportunity for the Eagles and Steelers, as they could have earned up to $20 million in revenue had sportsbooks been permitted within their respective stadiums. However, according to the ruling that allows sportsbooks in NFL stadiums, teams do not need to share revenue until it reaches that threshold.
The Eagles and Steelers can still provide the ambiance of a sportsbook through partnerships and lounges, even though they cannot include a sportsbook in their stadiums. The Pennsylvania Gaming Control Board's Director of Communications, Doug Harbach, revealed that sports lounges, which feature many of the amenities of a sportsbook, are being established in sports venues. However, patrons can only place wagers using their online accounts.
Lincoln Financial Field, the Eagles' home stadium, houses the FanDuel Lounge and Unibet Landing, with FanDuel as the corporate sponsor. As of November 2022, the Steelers partnered with DraftKings Sportsbook, Unibet, and BetMGM.
Role Model for Other Sportsbooks on NFL Stadiums
Currently, no teams have announced plans to establish a sportsbook inside their stadium for the upcoming 2023 NFL season. Perhaps the teams are waiting to observe the performance of Fanatics Sportsbook, which is located in FedExField.
Fanatics Sportsbook has been operational since January and is accessible daily from 10 a.m. to midnight ET. The bar and grill area of the sportsbook is also available seven days a week, from 4 p.m. to 10 p.m. on weekdays and from 12 p.m. to 10 p.m. on weekends. In addition, the sportsbook offers extended hours for special events like March Madness, MLB Opening Day, and select postseason games.
The overall size of Fanatics Sportsbook is 5,000 square feet, with eight betting windows and 21 self-service betting kiosks.