How Can PA Poker Players Win Their Way To the 2023 WSOP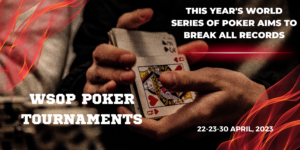 With almost $350 million in prizes awarded, last year's World Series of Poker was a record-breaking event. Besides the prize fund, WSOP again attracted close to 2006 record attendance with 8633 poker player entries.
The major poker event aims even higher this year, wanting to break those records. To do so, WSOP Pennsylvania has additional ways for the state's poker players to win into the big tournament. The World Series of Poker is played from May 30 to July 18.