Pennsylvania State Representative Propels Bill to Legalize Esports Betting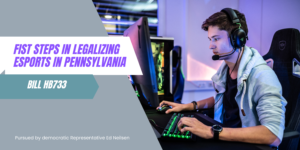 Pennsylvania has already legalized sportsbooks and online casinos. The state residents can now get another form of gaming on the market. Democratic Representative Ed Neilsen is pursuing legalizing eSports betting.
What is considered esports, and how can it change the betting market in Pennsylvania?
Esports Bill is Ready to Pass Through PA Legislation
State representative Neilson and his four colleagues are moving the bill HB733 through the Pennsylvania General Assembly. He already addressed this issue in his memo in January. Neilson said that the global esports industry was valued at $1.1 billion the previous year, with projections suggesting it could generate almost $1.8 billion in economic activity in the upcoming years.
Philadelphia is constructing a state-of-the-art facility exclusively for esports gaming, a unique venue in the United States that is anticipated to attract international events.
He added that New Jersey has already passed a bill in 2021 allowing gambling on esports tournaments, and other states are also contemplating similar legislation. In light of this emerging industry, Pennsylvania must incorporate esports into its gaming portfolio, which can promote economic growth and increase tax revenue. Consequently, Neilsen is introducing a new proposal to legalize betting on esports in Pennsylvania.
Under the proposed bill, residents of Pennsylvania would be permitted to place bets on esports events. The legislation may also create opportunities for new esports operators to accept wagers.
The proposed tax rate for esports betting is currently set at 36%, though this may be subject to revision during the legislative process. The bill would modify the existing sports betting law establishing the same Pennsylvania online sports betting rate.
To place a wager on an event, bettors must be at least 21, while participants in esports must be at least 18.
Although no specific timetable has been established and no meetings have been scheduled, the bill's progress through the Pennsylvania General Assembly remains to be seen.
The Difference of Esports and Casino Gambling
Wagering on esports differs significantly from betting on traditional sports or engaging in online casino games. Esports is a form of virtual spectator sport involving competitive video game tournaments, primarily among professional gamers, according to Dictionary.com.
In a previous bill proposed by Neilson in 2021, esports was defined as a competition featuring video games where players aged 18 years or older compete against each other, and the determining factor in the results is the players' relative skill level.
What does the esports betting legalization timeline look like?
Neislon's proposal is not the first esports betting legalization effort. The first attempt came in June 2021.
Ed Neilson came up with the HB1580 proposal before legislation, and it got four amendments before the current HB733 was formed. However, the bill moved swiftly since the beginning of March with four changes: HB69, HB5221, HB642, and on March 28, HB733.
Esports in Pennsylvania
Esports has already established a notable presence in Pennsylvania, mainly through Nerd Street Gamers, an esports organization that offers professional tournament venues. In November 2021, the organization appeared to be Philadelphia's first-ever venue, and it has since expanded to six venues, including two in New Jersey.
The Philadelphia location boasts an impressive array of amenities, such as a 40,000-square-foot space, 118 gaming computers, around 24 consoles, a tournament stage with seating for spectators, production facilities for creating and streaming content, and areas designated for teams to practice.
With gaming competitions occurring almost daily at the Philadelphia facility, the esports industry in Pennsylvania appears to be thriving.
Legal Online Gambling Options in The Keystone State
If esports gambling were allowed, it would arguably complete the online marketplace in Pennsylvania. Aside from online sports betting, games in PA online casinos, and poker, bettors would have access to esports betting.
In February, Pennsylvania experienced significant online casino growth, generating $162.3 million in revenue, the state's second-highest monthly total.
Additionally, the state's sportsbooks have seen substantial handle numbers over the past several months, with October 2022 recording an all-time high of $797.1 million in the handle.
Incorporating esports into Pennsylvania's gaming portfolio would further cement the state's position as a haven for gambling enthusiasts nationwide. The only remaining step would be for Pennsylvania to join the online poker compact.