Stadium Casino Against Bally's in Pennsylvania Supreme Court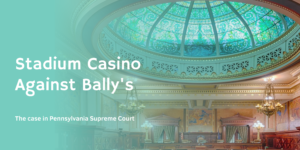 Stadium Casino, owned by the Cordish Companies, continues its legal battle against SC Gaming in the Nittany Mall Casino case by appealing to the Pennsylvania Supreme Court.
The Stadium Casino still fights Bally's winning bid against a company owned by Ira Lubert.
The years of legal infractions between the involved parties look like they will never end. Stadium Casino suggests that Lubert had an improper partner during her bid.
PA Supreme Court Will Listen to Nittany Mall Casino
Stadium Casino's appeal asks the Pennsylvania Supreme Court to reverse the PGCB's decision. The state Gaming Board gave SC Gaming the license for the Category 4 casino.
A court order earlier this month ruled several issues as "ripe" and warranting further review.
Lubert's application got another backer in Cyrus Pitri, Chief Enforcement Counsel with the Office of Enforcement Counsel (OEC) when he asked to move forward with the bid. As a result, Pennsylvania Gaming Control Board approved Bally's license in January, despite Stadium Casino complaining at the PGCB meeting.
As it now stands, the legal battle could take years to sort out after the latest appeal from Stadium Casino.
SG Gaming's Improper Partners
Ira Lubert and her company won the Category 4 license for mini-casino in Pennsylvania from the Gaming Board back in September 2020, when she and her partners submitted a $10,000,101 bid. However, since then, the bid has been questioned due to Lubert's alleged improper partners. The problem is Lubert's partners do not hold licenses in Pennsylvania.
Mark Aronchick, attorney for Stadium Casino, claims that Lubert brought in other interests with ownership stakes that should have disqualified them from bidding. Lubert has denied these allegations, claiming he paid from his bank account. However, this latest legal action is expected to prolong the resolution of the dispute.